I recently embarked on a culinary adventure in London, indulging in the diverse and tantalizing world of street food. Over the course of my journey, I immersed myself in the vibrant street food culture of this sprawling metropolis. Join me on this gastronomic voyage through London's bustling streets!
My Street Food Adventures
1. Borough Market: A Culinary Paradise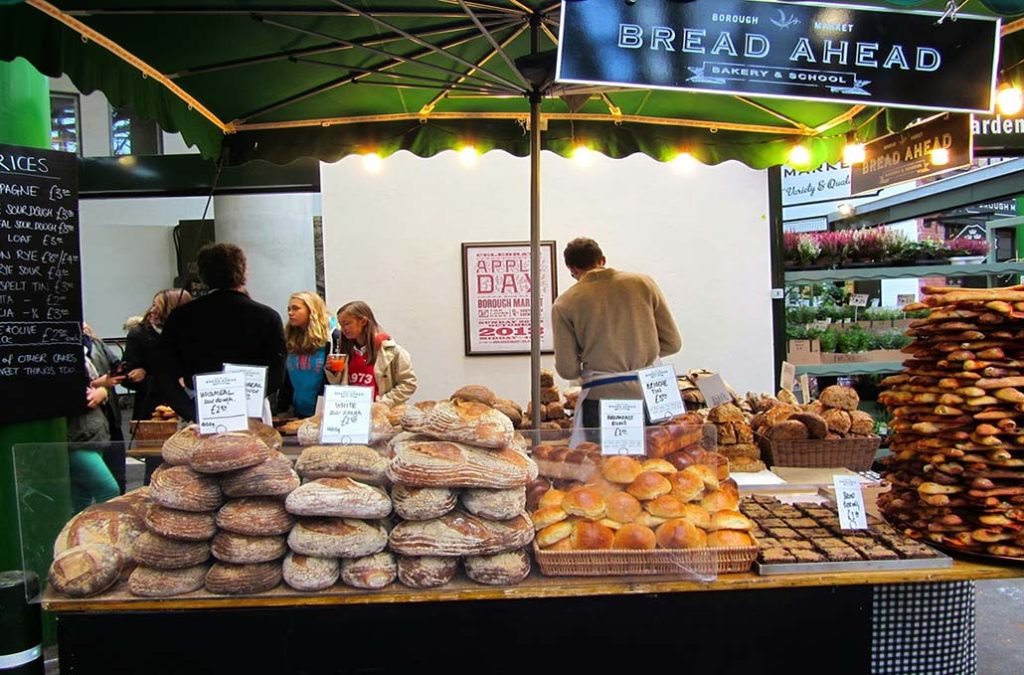 Location: 8 Southwark St, London SE1 1TL
Experience: Stepping into Borough Market was an assault on my senses. The medley of aromas, from freshly baked bread to sizzling sausages, was an exhilarating introduction. Unable to resist, I indulged in a "Gourmet Grilled Cheese" sandwich. The melding of cheddar, gruyère, and onion compote, sandwiched between artisan bread, was a gustatory delight.
Food Avenues: The market was a sprawling gastronomic landscape, teeming with food vendors and stalls, each offering a unique and enticing selection of fare. From artisanal cheeses to freshly baked artisan bread, gourmet sausages to a kaleidoscope of spices, Borough Market was a global tour of flavors, all within its lively confines.
Culinary Choice: After a bit of delightful dilemma, I opted for the "Gourmet Grilled Cheese" from a charming stall. This exquisite sandwich was a harmonious blend of cheddar, gruyère, and a sweet onion compote, all embraced by slices of artisan bread, lovingly grilled to a golden perfection.
First Bite: The initial bite of the grilled cheese sandwich was a revelation. The cheeses, creamy and rich, danced in perfect harmony with the sweet and tangy notes of the onion compote. The bread was toasted to the ideal level of crunch. Each flavor played its part in a symphony of delight, rendering the experience hearty, comforting, and utterly gratifying.
Atmosphere: Borough Market buzzed with life. It was a melting pot of people from various walks of life, all united by their shared passion for excellent food. The market's ambiance was a blend of bustling energy and conviviality, making the communal spirit of Borough Market as much a part of the experience as the food itself.
Rating: 9/10
Pros:
A vast array of gourmet options.
A bustling atmosphere brimming with vitality.
The usage of fresh and top-notch ingredients.
Cons:
The market can get overwhelmingly crowded during peak hours.
Borough Market is nothing short of a culinary utopia. The combination of food quality, variety, and the vibrant, communal atmosphere makes it an unforgettable experience. While my grilled cheese sandwich was the star of the show, the market's numerous other offerings left me yearning for more. Despite the occasional congestion, I departed Borough Market with a contented heart and a gratified palate, fully aware that I had sampled some of the finest offerings in London's street food scene.
Borough Market stands as a testament to the multicultural, culinary excellence that London has to offer. I wholeheartedly recommend it to anyone seeking an authentic taste of the city's gastronomic culture.
2. Brick Lane: The Curry Connoisseur's Dream
Location: Brick Ln, London E1 6QL
Experience: Brick Lane, often referred to as the Curry Capital, is a mecca for curry lovers. A visit here is incomplete without savoring the renowned "Brick Lane Curry." The harmonious blend of aromatic spices and tender chicken enveloped in a rich, tomato-based sauce was a symphony of flavors. Paired with a fluffy naan, it was an authentic taste of India in the heart of London.
Arrival and Ambience: Upon arriving at Brick Lane, I was immediately enveloped in a tapestry of alluring aromas. The atmosphere was charged with the vibrant energy of street vendors, restaurant promoters, and the irresistible scent of spices wafting through the air. It was evident from the get-go that I was entering a world of robust, aromatic flavors.
The Curry Houses: Brick Lane boasts a myriad of curry houses, each vying for attention with colorful signage and promises of culinary excellence. As I strolled along the lane, I was captivated by the array of options, each offering the potential for an authentic and unforgettable curry experience.
After perusing several menus and engaging in lively discussions with restaurant staff, I settled on the renowned "Brick Lane Curry." This classic dish featured tender chicken immersed in a sumptuous, tomato-based sauce infused with aromatic spices. It was elegantly accompanied by freshly baked naan bread, warm and enticing.
The Initial Bite: The first bite of the Brick Lane Curry was a revelation. The flavors converged into a harmonious symphony of spices, delivering a balanced and unforgettable taste. The chicken was tender, and the sauce was a testament to the culinary artistry behind it. The naan bread, flawlessly baked, complemented the curry perfectly. It was an authentic taste of India that momentarily transported me to the bustling streets of Delhi.
Rating: 8/10
Pros:
An authentic curry experience that caters to various spice preferences.
A budget-friendly culinary expedition.
An opportunity to immerse in the flavors of India without leaving London.
Cons:
The relentless persistence of some restaurant touts can be off-putting.
Brick Lane, the "Curry Capital," unquestionably stands as a haven for curry enthusiasts. The diverse array of rich, aromatic, and flavorful dishes, combined with the vibrant ambiance of the street, creates an unforgettable culinary journey. While the Brick Lane Curry was my personal highlight, the other offerings along the street beckoned with equal allure. Despite the occasional assertiveness of restaurant promoters, I left Brick Lane with a contented palate, knowing that I had savored some of the finest that London's curry scene had to offer.
Brick Lane's well-deserved reputation as the "Curry Capital" of the city makes it a must-visit for anyone seeking an authentic taste of Indian cuisine in the heart of London.
3. Camden Market: Eclectic Culinary Euphoria
Location: Camden Lock Pl, Camden Town, London NW1 8AL
Stepping into Camden Market, I was immediately enveloped in an atmosphere that was both vibrant and artistic. The market presented a kaleidoscope of colors and tastes, with an array of stalls competing for attention. It was evident from the outset that I was on the brink of a culinary journey that defied convention.
Cultural Fusion: Camden Market is renowned for its fusion cuisine, where the lines between different culinary traditions blur into a tapestry of inventive dishes. As I explored the stalls, I couldn't help but be amazed by the creativity and flair of the vendors who seamlessly merged diverse flavors and techniques to craft truly original creations.

Experience: Camden Market, a melting pot of cultures and flavors, piqued my curiosity. Here, I couldn't resist the allure of "Korean BBQ Tacos." The succulent marinated beef, accompanied by fresh kimchi and a spicy gochujang sauce, was an intriguing fusion of Korean and Mexican cuisine. This unexpected combination was a culinary revelation.
This dish was a shining example of Camden's fusion ethos, uniting succulent marinated beef, zesty kimchi, and a spicy gochujang sauce, all nestled in a soft taco shell.
The First Bite: That initial bite of the Korean BBQ Tacos was nothing short of revelatory. The tender, expertly marinated beef offered a savory contrast to the crisp and vibrant kimchi. The spicy gochujang sauce introduced a thrilling kick to the overall flavor profile. The fusion of Korean and Mexican influences created a delightful amalgamation of tastes that had me yearning for more.
Rating: 8.5/10
Pros:
A hub of diverse and eclectic food choices.
A playground for innovative fusion dishes.
An animated and artistic atmosphere that engages the senses.
Cons:
Prices can fluctuate significantly between stalls, making budgeting a challenge.
Camden Market is a testament to the sheer magic of culinary fusion. The market's eclectic range of imaginative and pioneering dishes, coupled with its vivacious and creative atmosphere, crafts an experience that challenges conventional dining norms. While my choice of the Korean BBQ Tacos was undoubtedly a highlight, Camden Market beckoned with an abundance of other tempting options. Despite the varying price points and the bustling weekend crowds, I departed Camden Market with a sense of culinary exploration satisfied.
Camden Market is an essential stop for those who celebrate the intersection of art and food. It's a vivid showcase of how diverse culinary influences can seamlessly coexist in the heart of London, and I wholeheartedly recommend it to anyone seeking an eating experience that dares to be different.
Recommendations for Your Culinary Odyssey
1. Greenwich Market: A Global Gastronomic Journey
Location: 5B Greenwich Market, London SE10 9HZ
Experience: Greenwich Market is a microcosm of international flavors. Don't miss the "Jerk Chicken from the Caribbean Cabin." The smoky, spicy nuances of this dish, coupled with tender chicken, create an authentic Caribbean escapade. Served alongside rice and peas, it transports you to the heart of the Caribbean.
Rating: 9/10
Pros:
An authentic Caribbean gastronomic journey.
A picturesque riverside location that heightens the dining experience.
The warm and welcoming demeanor of the vendors.
Cons:
Seating options are limited, so be prepared for al fresco dining.
2. Maltby Street Market: Unearthing Culinary Treasures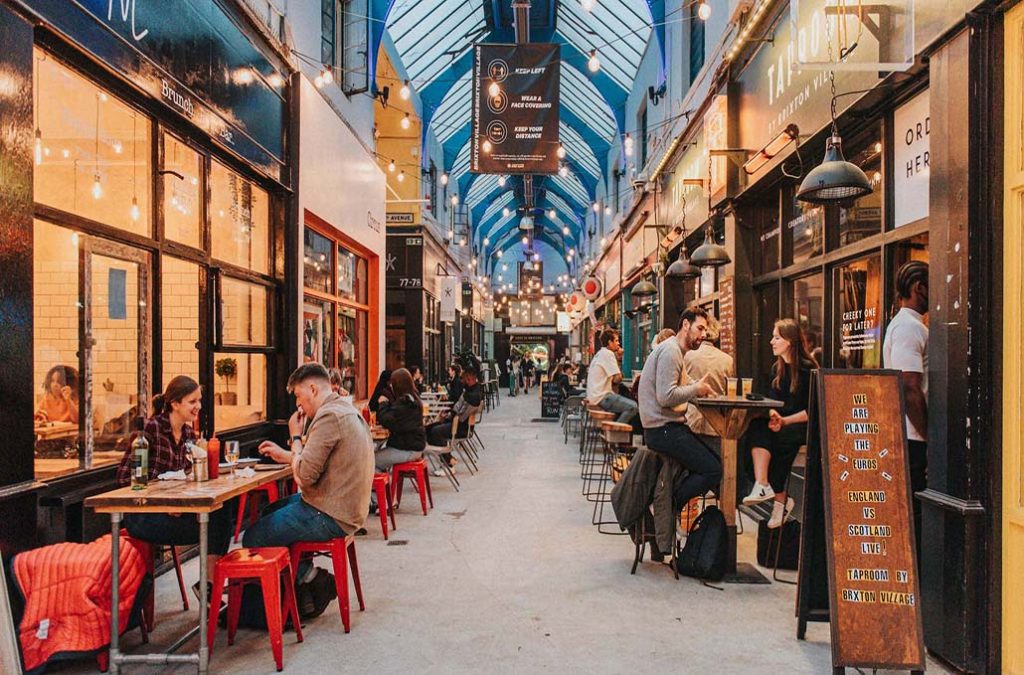 Location: Ropewalk, London SE1 3PA
Experience: Maltby Street Market is a treasure trove for culinary connoisseurs. Dive into the "Gourmet Toasties" offered by "The Cheese Truck." This seemingly simple delight boasts artisanal cheeses ensconced between perfectly grilled bread. It's an unpretentious yet divine experience that underscores the essence of pure indulgence.
Rating: 8.5/10
Pros:
A haven for aficionados of gourmet grilled cheese.
Off the beaten path, offering a more intimate experience.
The passion and knowledge exhibited by the vendors.
Cons:
Opening hours can be limiting, so plan your visit accordingly.
3. Southbank Centre Food Market: Riverside Feasting
Location: Belvedere Rd, Lambeth, London SE1 8XX
Experience: Southbank Centre Food Market provides a spectacular backdrop against the backdrop of the Thames River. Dive into "Argentinian Empanadas" to tantalize your taste buds. These delectable parcels of flaky pastry filled with savory meats, aromatic spices, and fresh vegetables offer a tantalizing taste of South America.
Rating: 8/10
Pros:
An enchanting riverside setting that elevates your dining experience.
An authentic South American culinary adventure.
A vibrant atmosphere brimming with cultural nuances.
Cons:
The market can become quite crowded, particularly on weekends.
A Street Food Culinary Odyssey: A Sumptuous Affair
It is a testament to the city's cultural diversity, where culinary artisans thrive. Whether you're a fervent food enthusiast or a traveler yearning for an authentic taste of London, the city's streets are replete with culinary gems waiting to be unearthed. From the gourmet delights of Borough Market to the spicy curries of Brick Lane and the fusion flavors of Camden Market, London's streets have a world of delectable experiences ready for you to savor. Bon appétit!